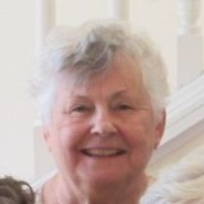 There has been a tremendous loss in our CCC sphere with the recent passing of former Board President, Christina "Tina" Bailey.
Tina's contributions to the CCC mission, vision, and values run wide and deep. She joined the Board of Directors in 2016 soon after her retirement from Cal Poly as Chemistry Department Chair and was brought aboard by her neighbor and CCC legend, Al Amaral.
Tina made a swift impact with her compassion, inquisitiveness, dedication, and personal understanding of the mental health issues being faced by many in our community.
Her initiative and leadership was initially felt at a Board Strategic Planning Retreat in 2016 where she developed a list of agency core values that were unanimously adopted by the Board. She also helped lead the way at the retreat in committing to a 50th anniversary capital campaign and the acquisition of a permanent home and headquarters location for the agency.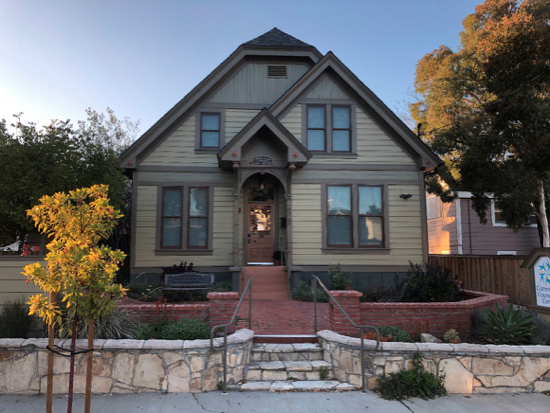 The strength, wisdom, fortitude, and philanthropy of Tina shone brightly in June of 2017 when the CCC Board of Directors decided to purchase and renovate the historic "Greenfield House," a 2,300 square foot 19th century Carpenter-Gothic structure located at 676 Pismo Street (in the Old Town District adjacent to St. Stephen's Church).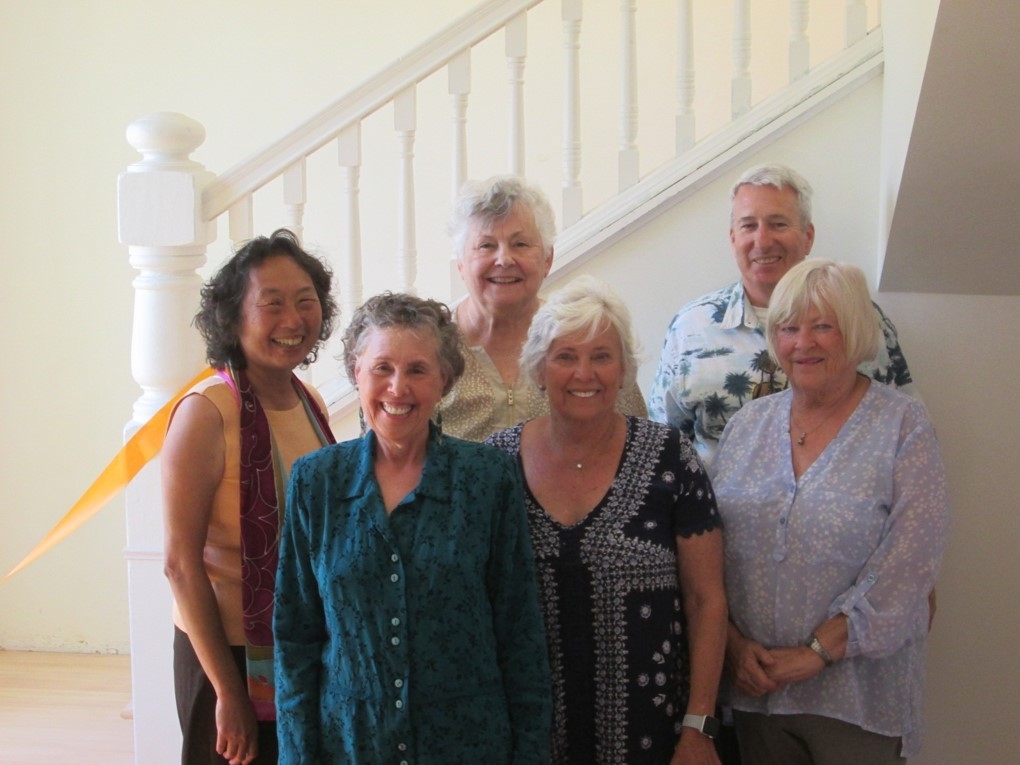 Tina wrapped her arms around the restoration project and became a mainstay at the property, helping to oversee the day-to-day construction progress, interior design, and furnishings.
The albums CCC could fill of pictures with Tina onsite at 676 Pismo Street taking donors and supporters on hard hat tours and private, construction progress unveilings is proof alone of her devotion and belief in expanding affordable mental health counseling and therapy services for the economically under privileged.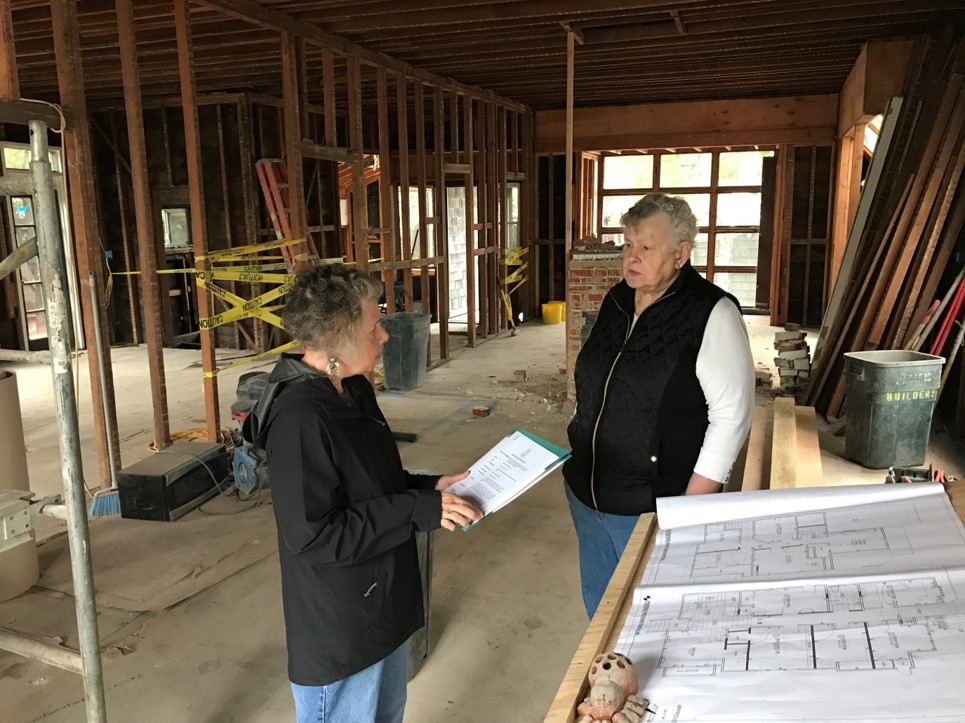 Tina took the reins on a multitude of jobs related to the Capital Campaign not the least of which was her chairing the Marketing/Outreach/& Cultivation Committee. Tina and her husband Phil's home in San Luis Obispo quickly became the central gathering point for campaign committee meetings, social mixers, and volunteer fundraiser trainings/get togethers. Tina single-handedly coordinated the design and creation of the case for support documents and spiral bound campaign presentation materials that became a key part of each donor engagement experience.
The successful completion of the campaign and opening of the new center in November of 2018 were the culmination of her dynamic energies at 676 Pismo Street. The handicap parking spot and ADA ramp, which are named in honor of Tina and Phil, were also sources of great pride and accomplishment. Tina was instrumental in fostering a positive neighborly relationship with the St. Stephen's Church Vestry which inevitably provided parking spaces to CCC through a formal offsite agreement recorded with the City of San Luis Obispo.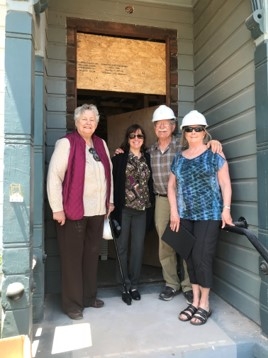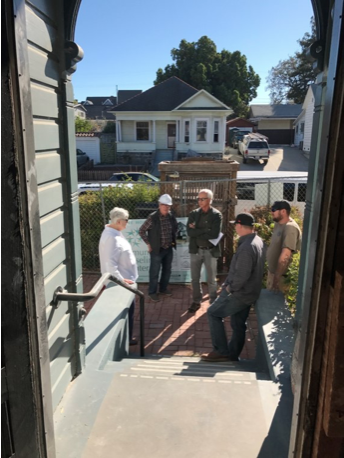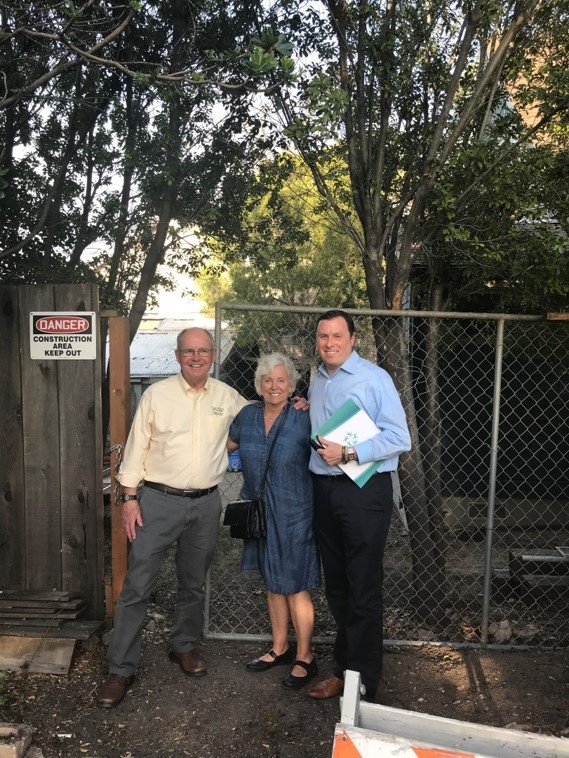 In taking the helm as Board President Tina forged right ahead as the leading organizer of the Paso Robles Vine Street clinic expansion. She put her sense of design, space, and comfortability to work again in outfitting the new clinic. Her enthusiasm caught fire and many volunteers from the Board (in tandem with their significant others) joined in putting furniture together and preparing for operations to begin.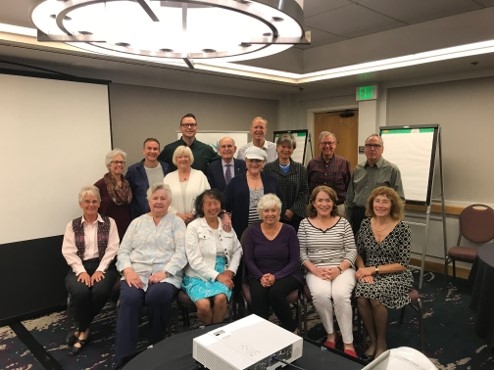 In honor of Tina's immeasurable contributions the Community Counseling Center Board of Directors has adopted four key initiatives to commemorate her remarkable life and acts of service for the cause of improving the mental well being of the community.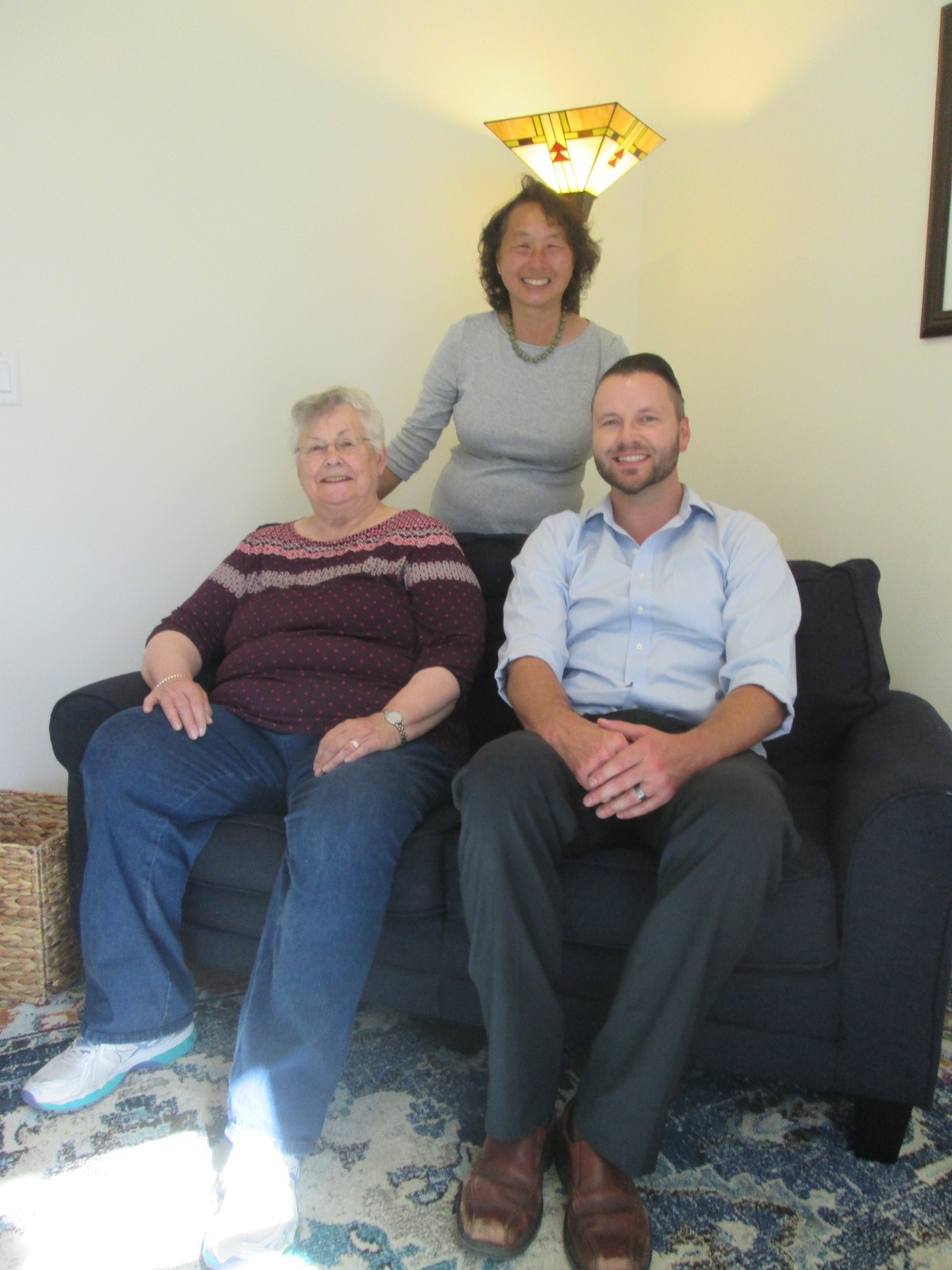 Therapy Room Naming: the premier family therapy and community/group room (1B) at 676 Pismo Street will be named in Tina's honor and represented with a placard, picture, and commemorative text.
*Art of Philanthropy: Phil Bailey and his family have accepted the naming graciously and as an acknowledgment Phil has been moved to pledge $10,000 a year for the rest of his lifetime to the CCC in Tina's honor.
Lyceum Tie-in: Tina's legacy will be interwoven into the event by including a Tina Bailey Therapist Scholarship to be awarded annually.
Birthday Acknowledgment: during the month of July, on the 4th Wednesday of the month, CCC will start a new tradition of handing out gardenias (Tina's favorite flower) to all clients (gardenias of grace) and volunteer counselors (gardenias of gratitude) that are at the CCC headquarters clinic in San Luis Obispo and branch clinic in Paso Robles on that day.
Website Tribute and Donation Page: the agency's website will feature a commemorative page detailing Tina's contributions including a photographic archive of her service. Here, supporters and friends will be invited to make a donation in Tina's memory which can be designated toward room naming, scholarship, or toward fellowship of family counseling services for those most in need.
*Make a Gift in Honor of Tina's Spirit and Service: please click the donation button below to make a gift in memory of Christina "Tina" Bailey. .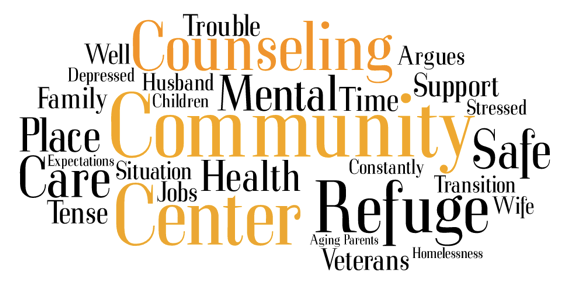 *Here is a thought bubble and thematic word symbol that Tina designed for the Capital Campaign case for support.
In addition to CCC's tributary work we invite our friends and supporters to see Tina's obituary page which beautifully captures her life and essence: https://www.legacy.com/obituaries/sanluisobispo/obituary.aspx?n=christina-bailey-tina&pid=196548164
Obituary Excerpt:
Christina "Tina" Bailey On Tuesday July 22, 2020 Christina (Tina) Anne Bailey, loving wife, mother, mentor, and friend, passed away at the age of 78. On June 4th, Tina and her husband Phil celebrated their 54th wedding anniversary on the same day she had major surgery. She returned home in time for her July 4th birthday to embark on a long road to recovery during which she passed unexpectedly. Tina was bright, loving, funny, and intelligent. She loved a good book, crossword puzzles, a snuggle with her cats, jazz, any sci-fi movie, chocolate, time in her garden, anything with travel and photography, among many other things. Above all she loved her family and her friends. Tina was born on July 4,1942 in Brooklyn, NY the only child of Edward and Josephine Wahl, both children of Lithuanian immigrants who had a high school and eighth grade education, respectively. As a woman in science, Tina was clearly a pioneer. She pursued chemistry and earned a bachelor's degree from the College of St. Elizabeth in New Jersey and a Ph.D. from Purdue University in Indiana, the place where she met her husband Phil. Tina was a first generation college graduate, and was in the early stages of her Ph.D. program when she lost her mother. Soon after Phil and Tina married she lost her father, and Phil became her only family.

After graduate school, Phil and Tina moved to San Luis Obispo as Phil had secured an assistant professor position at Cal Poly in chemistry beginning fall 1969. Tina sought an equivalent position herself but at the time Cal Poly, like many other institutions, had a nepotism policy that prevented her from consideration despite her qualifications. Instead, Paso Robles High School was in need of a chemistry teacher as school was about to begin. Tina took the position and taught chemistry and math for two years until she and Phil adopted their first child. She remained in contact with some of those Paso High School students even in her last days. As Equal Employment Opportunity legislation became law in the early 1970's, Tina secured a lecturer position in the Chemistry Department at Cal Poly which she held for several years. She was one of a very few women faculty members in science at the time, a time shrouded with skepticism by some of women in tenured positions. Nevertheless, Tina persisted and secured an assistant professor position in biochemistry by the late 70's. In all things, Tina excelled as a faculty member. She was quickly recognized with Cal Poly's Distinguished Teaching Award, was once the campus's nominee for the California State University Outstanding Faculty Award. Tina served as Chair of the Academic Senate Curriculum Committee, received national recognition for her development of the studio classroom model in chemistry where "lecture" and "laboratory" are integrated in the same space and was an honored alum at her undergraduate alma mater. She served two terms as department chair of the Chemistry and Biochemistry Department at Cal Poly before she retired. Tina co-authored several editions of a nationally published organic chemistry textbook with Phil. She especially liked to teach Drugs and Poisons, Biochemical Pharmacology and general chemistry in the studio classroom, all courses she personally developed initially.

By example, she paved the way for others, especially in the sciences, who were unjustly marginalized. We are all better because of pioneers like her. In this light, Tina was also extremely active in the community. Early in her life she held leadership positions in the League of Women Voters in SLO County. For many years Tina ran a Girl Scout Troop, during which she coordinated Girl Scouts for all of SLO county. Most memorable was a large semi-truck that pulled into the driveway of her home for several years and filled the Bailey living room with hundreds of cartons of Girl Scout cookies, waiting to be delivered. Along with her husband Phil, she helped with his Boy Scout Troop, served as parent leaders in the San Luis Obispo Seahawks Swim Club, was active in the PTA at the children's schools, and both were eager volunteers in a variety of other settings. For the last several years Tina served on the Board of the Community Counseling Center, and as president for the past two years until forced to resign for health reasons. Tina was an integral part of the expansion of CCC and was very proud of its role in the community as well as all the other organizations whose roles are to benefit those in need. In their life together, Tina and Phil raised four adopted children, and unofficially adopted dozens more as their "Cal Poly" family by offering a place to live in their home, assisting with tuition and fees, or simply providing love and moral support. Tina and Phil enjoyed visiting their Cal Poly family all over the country and the world.

Tina is survived by her husband Phil, their four children, their partners and grandchildren Karl and his wife Lavonne and children Emily, Helaina, Chase, and Josh; Jennifer and her son Jamir; Kristi; and Michael and his wife Lori and children Sean, Hunter, Chris, CJ, Cody, and Colton. PS from Phil: Tina and I both have had wonderful careers at Cal Poly. I don't see how I could have achieved so much in my own career without the love, understanding, and support of Tina. Her journey was more challenging but she absolutely excelled. I have always been so proud of her and so thankful for our love and friendship in our professional, community and family lives. On behalf of Tina we want to acknowledge how much she loved the Cal Poly faculty, staff and students, the San Luis Obispo community and all of her family, friends and colleagues. We hope to have a celebration of Tina's life sometime in the future.
Our heart goes out to the Bailey family and all those that miss and adore Tina. It is the CCC's sincere honor to work with the Bailey family and our supporters to uphold her memory, legacy, and remarkable contributions.
With gratitude and care,
James Statler
Executive Director
Community Counseling Center (CCC)